Air Duct Cleaning Services
Dryer Vent Cleaning
Services
Chimney Cleaning Services
Commercial AC Duct
Cleaning Services
Commercial Dryer Vent
Cleaning Services
Air Duct Cleaning & Dryer Vent Cleaning Services in Florida
Florida's Air Duct Cleaning Specialists
We provide quality cleaning services for air ducts, dryer vents, and chimneys. We specialize in AC Duct Cleaning also known as HVAC cleaning. Our company is the trusted name in air duct and HVAC cleaning because we utilize the most current advanced technology, industry-leading methods, and effective techniques.
We go the extra mile to ensure the dryer vent cleaning is done right and our customers are satisfied. We use a reverse airflow snake that uses air pressure and blows the lint back out through the vent cap.
By having our experts remove the buildup, your HVAC system will work more efficiently and potentially save you money on cooling and heating costs. Improve the air quality in your facility for a cleaner environment
We use the most current technology to efficiently clean ac ducts. Traditional duct cleaning can cause your flex ducts to be torn, ripped, or pulled apart. This leads to leaks that allow warm or cool air to escape.
Florida Department of Business and Professional Regulation: RS11041607 | Hernando County License: AAA0052135 | Pasco County License: RS-09734 | Citrus County License: CC-2980 | Sumter County License: C-3016
A chimney sweep means a CSIA certified chimney sweep. So every technician that does Chimney Cleaning follows specific guidelines and procedures that guarantee a thorough and professional job.
We specialize in commercial dryer vent cleaning. Among our satisfied customers are Sports Clips and Great Clips hair cutting salons, both of whom have on-site laundry facilities and a nearly everlasting load of laundry running!
Control Your Indoor Air Quality
Our team consists of highly trained professionals who have the knowledge and insight to inspect and provide a customized cleaning plan to help control indoor air quality and system efficiency. As a licensed and insured contractor and a certified member of the National Air Duct Cleaners Association (NADCA), our standard is to provide unmatched services to our Florida residential and commercial communities.
Reasons To Choose us
Our team has the training and tools necessary to provide results that last and get the job done right. We offer honest and competitive pricing for all of our services. AS a certified Air Systems Cleaning Specialist (ASCS) member of NADCA, we adhere to guidelines set by NADCA to ensure proper techniques tools and safety are always used. We carefully inspect the property before creating a customized cleaning plan. Upon completion of the project, we supply before and after pictures to show the difference.
Who we are?
Clean Air Duct Cleaning is a local family owned and operated vent cleaning company providing exceptional Air Duct and Dryer Vent Sweeping services in Florida. You can trust our company's professional staff as we are licensed and insured to clean and work with HVAC systems in Hernando County Florida, Citrus County Florida, Sumter County Florida, and Pasco County Florida.
A combination of our trained staff, the latest duct cleaning technology, years of experience as well as our commitment to provide reliable and quality services to our customers for reasonable prices, enable CleanAirDuctCleaning to maintain its position as one of the most trusted AC duct cleaning & Dryer Vent cleaning services in all of Hernando, Citrus, Sumter, and Pasco County Florida.
Testimonials
Efficient and quick. Friendly and professional service! Well priced as well. 5 stars!

Jesse Armstrong


9/15/2018

This company is simply awesome. On time, professional and great prices. I can't say enough about them.

Nicholas Baez


3/01/2020

They cleaned all our ducts and cleaned up their mess after. I highly recommend this Company.

Athena Sanchez


11/26/2019

Phil and Amy were very professional. They quoted me a fair price, arrived on time, and did a great job on my home. I would highly recommend them to anyone needing air duct cleaning.

scott lettis


4/05/2020

Great company, friendly professional people, would highly recommend.

Mark Stephens


10/08/2018

Solved a dryer vent issue we didn't even know we had. Right on time and super friendly guys. Great customer service as well.

Amanda Leon


1/15/2020

If I could give 10 stars I would! The guys were on time, very professional and friendly (even with our 10 month old puppy that may have been in their way at times) and cleaned up. Amy in the office was as well when we booked our appointment. Highly recommend to others!

mike dabkovich


9/01/2018

Great service!

Kairi Foster


1/01/2020
About our Duct & Vent Cleaning Services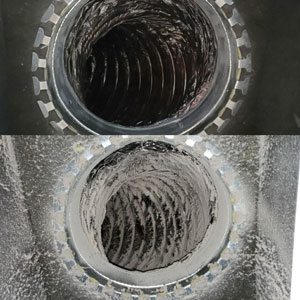 Other Commercial Facilities
Energy saving
According to the EPA, a build-up of only .042 inches of dirt on a heating coil can result in a decrease of efficiency of 21%. a clean air conveyance system may help to increase efficiency and therefore may help to reduce heating and cooling costs.
Benefits of A/C Dust Cleaning
Health According to the EPA, indoor air is found to be up to 70 times more polluted than outdoor air. air duct cleaning removes many airborne contaminants such as bacteria, fungus, spores, pet dander & pollen which may help to alleviate allergy & asthma symptoms...
Extended Equipment Life
9 out of 10 system failures are caused by dirt and dust according to the Louisiana cooperative extension service. one of the functions of the fan, located inside of your air handler, is to keep the heat exchanger cool. accumulated dirt and debris can reduce the CFM(cubic feet of air per minute) as much as 50%! this is the most common cause of cracks in the heat exchanger. by having your system cleaned you may prevent premature breakdown & aging of your heating and cooling system..
Reduce Dusting
Source removal duct cleaning can help to reduce household dust by removing the dust where it travels most….through your air duct system.